Ray's Original Nut Homepage
| | |
| --- | --- |
| | Nuts are seeds (probably not from Curt) that are covered with a hard shell. Most are the seeds of trees (they don't fall far from the tree), but the seeds of a few other plants that are not strictly nuts will also be considered here as they can be conveniently classified with nuts for culinary purposes (like Oken). |
| | Welcome from Bill, Ellen, Sarah, Kate, Bo, Clark, Geoff, Curt, Turissa, Jenn, Ray, Ricky, and Liam. (Too drunk to photograph: Adam, Leda, John G, Jon K, Derek M, the rest of the Brute Squad) |
Play the Nut Drinking Game, Play the Nut Trivia Game, Read The Knx Before X-Mas, The First day of spring is John G Day, Last Year's Buffett Pictures, The Nut Chronicles, Crackers Improv Comedy

E-Mail People
Adam S, Alex S, Andrea R, Bill D, Chris B, Curt K, Derek M, Doug K, Ellen H, Geoff W, Jen O, Joe J, Kate F, Leda M, Liam L, Paula from Buffett, Ray L, Rick Lan, Rick Lin, Robin H, Sarah G, Sarah M, Shari J, Tara from Buffett
Visit People...
Andrea Ridolfi's Page

Bo's incredible page devoted to the CK Award for Bravery and/or Stupidity
What's in the News !!!

Play the Nut Trivia Game and win the code to unlock Pay-Per-View at the Nut.
Spend New Years at the Nut for the "Nutty Nutty Rockin' New Year's Eve Party."
See Rick talk to women...
Brian Evans left the Army??????
No, Brian Evans works as Barney!!!!!
Sailing News
In the summer of 2000. We will be departing to Bermuda (yes, that island in the middle of the Atlantic). This will be something to tell your grand kids about. If you hate to shower don't worry everyone will smell worse than you. Let me know if you're interested in the trip. Everyone is welcome regardless of experience or political preference.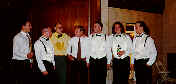 The Men of the Chorus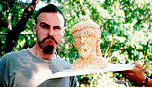 And a Man Named Boris
Everybody E-Mail me: SpamMaster